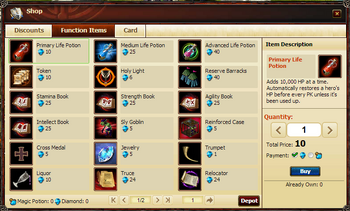 You can buy unique items to help you improve your city and hero here. Items are priced with diamonds or magic potions.  It also contains a quick link to the Depot at the lower right corner. The shop has four tabs:
Discounts (Items from the other three categories that are on discount for particular events are found here)
Card (Cards are used to open scrolls)
Ad blocker interference detected!
Wikia is a free-to-use site that makes money from advertising. We have a modified experience for viewers using ad blockers

Wikia is not accessible if you've made further modifications. Remove the custom ad blocker rule(s) and the page will load as expected.